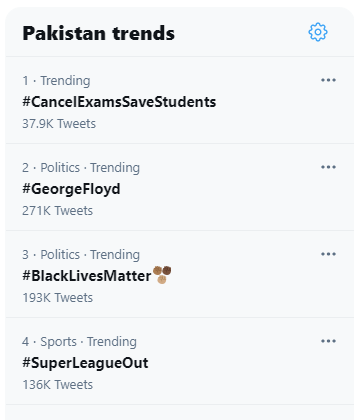 As the daily number of new COVID 19 Cases and daily related deaths are on peak right now in Pakistan, they are in fact all time high. Despite this Govt have opened the Schools/Colleges for students from 9th grade up to 12th and is hell bent on taking the board exams.
Students on the other hand are protesting against it through different avenues they have, one of them being the social media. For Example, the hashtag #CancelExamsSaveStudents is trending number one on twitter in Pakistan countrywide with about nearly 40,000 tweets on this hash tag and two other related hashtags #CancelExams2021 and #CancelExamsPakistan2021 seeing bulk tweets as well.
Lots of people are on side of students in this, as according to them it is not only risk for students but also will be risk for education stuff who will be conducting the operations of exams. So government should for now either delay exams or promote like last year, whichever is suitable, but it is not the time to call students back to school in such a bad situation.
Some have taken another unique route to express their feelings about the students being pushed towards the exams and COVID exposure in there difficult days. Yes I am referring to this following video tweet.
And some have resorted to mems like in the following tweet and more to express their feeling towards the insensitivity of government in these testing times.
Also some of the tweets suggest the students have also filed a case in court and an awaited judgment which is suppose to come today later on is ray of hope and is expected to give some relief to students. All the efforts of communicating the concerns to ministry have been useless so far. Another viral cartoon about the whole situation looked like following.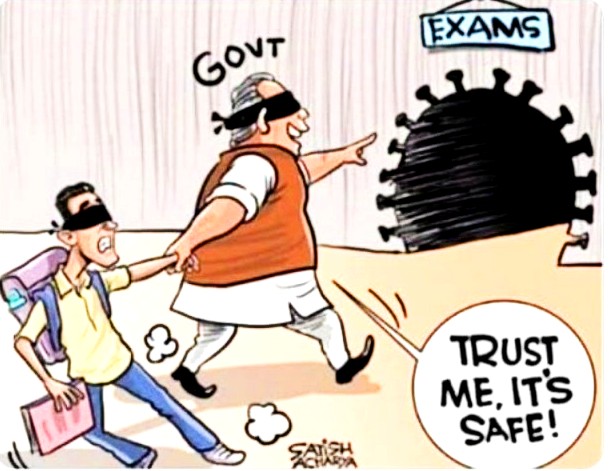 Have no stake in the whole situation in any way possible, here is what my opinion is, on this. Though the continued education is of utmost importance for career of students and for the future of country as well, but currently seeing the Corona Virus Infection rates, active cases, daily new cases and daily new deaths, govt should show some flexibility here. As per all the authentic sources, all of these above mentioned stats are on their all time high in Pakistan. So it is better that government takes balanced approach and if canceling exams is not possible, they must at least delay them for now until situation gets better.