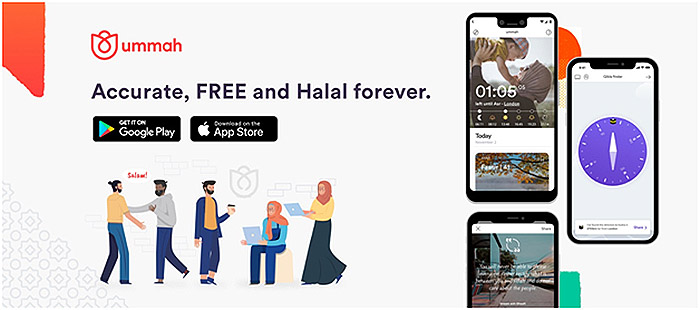 Each year, Muslims look forward to the celebration of Ramadan Kareem. As part of their dedication to Islam, brothers and sisters must embrace every moment of their religion. Everyone is aware of the value of every moment that is dedicated to Islam, especially during the time of Ramadan Kareem. In order to make the most of this precious time,visitors should organize their faith activities during this month so no one misses out on anything, such as Salah and prayers. The Ummah Platform is guaranteed to help followers of Islam worship by offering a variety of needs all in one platform and at one location. In fact, Ummahis a ready-reference tool before, during, and after Ramadan. Here are a few of the features that Ummah offers for the brotherhood:
Prayer Times and Qiblah Direction

No matter where the followers of Islam are located in the world, the need for prayer is critical. Ummah has the unique ability to find user locations and provide accurate prayer times based on that location. Users can even be notified when those prayer times are about to occur. All followers have to do is to activatetheir location on their smartphone, and the app will do the rest. Traveling and lost track of the time? No more worries. Responsible brothers and sisters have prayer times at their fingertips. Additionally, Ummah will let users know the direction of Qiblah with an attractive and user-friendly app page that is easy to follow. Ummah uses augmented reality to help followersidentify the correct Qibla direction.
Notification with Ayahs, Hadiths, and Scholarly Sayings… and share them with #halalcard
Ramadan Kareem is a spiritual month.Ummah will refresh both heart and mind with verses from the Quran, noble sayings of the Prophet (p.b.u.h), and advice from eminent scholars on how to deal with everyday hardships. Ummah will provide encouragement and inspiration for doing good deeds and how to avoid bad thoughts. Muslims will also have the chance to share these sayings with a customized design through a #halalcard feature. Users can add a customized profile and select their own filter and font. This will be a great feature for everyone and friends will love it!
The Halal Shop: A worldwide Halal Marketplace, Coming Soon!
Ummah will soon offer a trading marketplace, where Muslims can buy, sell or trade items with each other. Are you a user looking for something to buy? Check out the Ummah marketplace. Need to make some extra cash? Post it on the Halal Shop and make some quick money. The Ummah global unified community can provide items for sale or trade from other brothers and sisters. No issues, no complications, and 100% safe and secure.The Ummah logo identifiesevery feature that can be done inside the app. A shopping bag icon willidentify a halal shopping place inside the app.
Yes, the Ummah app can bring it all together in one app for the Muslim community. Users only need to try it once, and visitors will keep coming back.