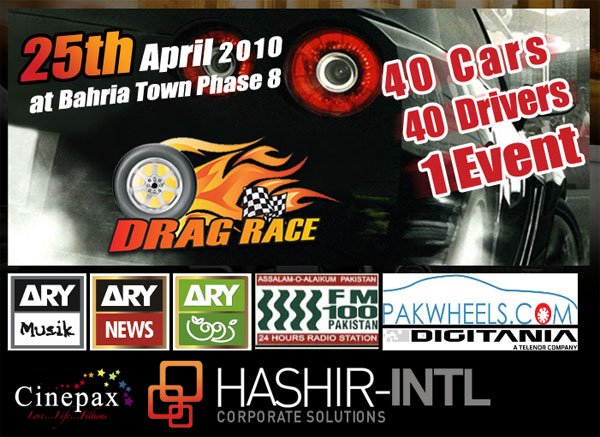 This is the second drag racing event of Islamabad, Pakistan going to be held on 25th of April 2010 in Bahria Town Phase 8 Islamabad. The previous one held on same place two months ago in Feb 2010. This one seems bigger as the sponsors include ARY Television Channel, FM 100 Radio channel and Cine Pax. The previous one was also gone awesome but this one seems to be much more organized. There is proper seating arrangement this time which consists of 2000 seats.
The tickets of this event are available in Rs. 300 for individuals and for family of up to 5 people in 1000 on following places
Islamabad
– Haroon's
– Ye Olde Hangout
– Book Fair
– Mr.Books
– Munchies
Rawalpindi
– Cinepax Jinnah Park
– Haroon's Saddar
According to organizers 40 cars are going to be participating in this event and cars are coming from all over Pakistan.
Subscribe to our email updates, twitter and facebook pages from the right of this page to keep yourself updated.