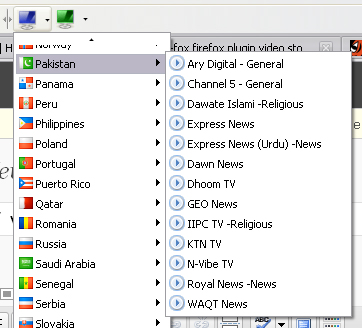 Did you always searched for a good Internet TV solution, which brings you the world wide TV channel which are not available via cable TV your country. Stop thinking more than required, go switch on you TV set and watch available TV channels. If not then here is second best solution which is called TV-Fox
TV-Fox is firefox add-on, you can just install it in less than 1 minute time and enjoy unlimited channels from all over the world. From firefox's very own browsing window click TV icon and select channels of your choice and enjoy TV while working via always on top TV window. You can also watch TV in full screen mode. There is absolutely no registration required, its totally free. Its a reliable solution if you have a good broadband connection at your place.
At the moment it offers a good number of channels per country, they are also adding new ones day by day, if you go to add-on page you will see the details. You can browse the channels list via country as well as it offers another option to browse the channels list via category, like music, movies, entertainment, education and lots more.
TV-Fox add-on URL: https://addons.mozilla.org/en-US/firefox/addon/11200
Updating this post with a small video tutorial which may be helpful in finding, installing and having a look on how it works, so here you go.