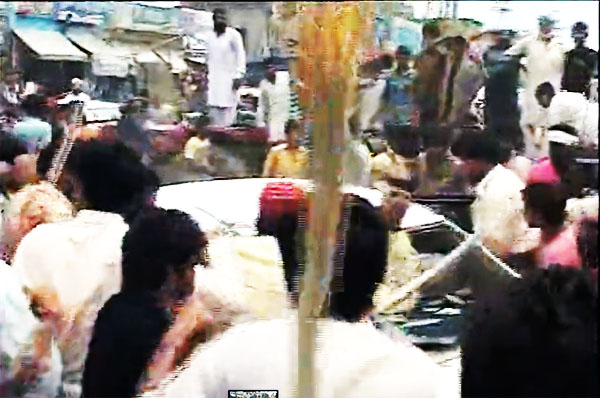 People all over Punjab and Pakistan have started hitting the roads for protests against electricity load shedding. Pakistan Muslim League-Nawaz (PML-N) is a ruling political party, which before 2013 general elections had claimed that they will resolve all the issues people of Pakistan are facing. Among them all they had specific claims about electricity, their leaders Nawaz and Specially Shehbaz Sharif had different claims of dealing with electricity problem once and for all within duration of 6 months to 2 years, as claimed in different speeches.
Now after more than one year passed with PML-N in power, electricity load shedding issue only gone worse. People in rural areas are facing load shedding of 18 to 22 hours daily and in urban areas people are facing load shedding on 14 to 18 hours. Even in Holy month of Ramadan, when people want peacefully worship Allah, absence of electricity in painstaking temperatures of 40 plus degree Celsius, only makes things bad.
People from Lahore and Punjab, from where people had given huge mandate to current PML-N led government in 2013 general elections, have now started protesting against worst load shedding of all times. People not only protested but they gone forward to attack Lahore Electric Supply Company's (LECSO) office. Broken computers, furniture, interior and any thing which they have seen inside. The employees had to run to save their life.
Also in different areas of Punjab people hit road for violent protests against load shedding, they burned tires and destroyed public property. They destroyed cars whichever came under their sight. Now the current government is responsible for all this chaos, they are spending too much money on roads and transportation projects like Metro Bus Service, Metro Train Service but they are unable to provide people with electricity which is truly a basic in current era.
The government which can't run fans of its people (let alone the ACs) must really step down immediately. Country definitely needs and deserve better transportation services but people deserve and need uninterrupted Power Supply much more than any transportation services. Its time that PML-N should reset or review its priorities otherwise the way things are going, people are going to vote them out in next elections.
If we see the matter of load shedding, Pakistan definitely have much more resources and existing power plants which can easily provide electricity more than current demand. More projects are definitely needed, as demand will grow with time. But at the moment govt need to manage ever increasing circular dept. This is circulating absence of enough money to purchase fuel for making electricity, caused by ineffective collection of pending dues. There are firms/individuals which have not payed bills from years, still govt does not collect bills, which results in vacuum, the absence of money for fuel, resulting in load shedding.
Here is Dunya News' video about latest protests happening against electricity load shedding in Pakistan.

Do share your opinions via comments section below. Do follow us on twitter and Like us on Facebook, all from right side of this page, to stay updated with latest and useful from Pakistan.