As, always what Google does is, it cares for its audience from different countries and localities. So Google changes its logo in accordance with special occasions of certain locality. So they always call those modified logos depicting those special occasions 'Doodle'.
Enough of the background on Google doodles, Google have recently launched one such doodle to be part of Pakistan's Independence Day celebrations in 2018. They did this many times on our Independence days, other occasions and their logo changed many times to remember people who had contributed to Pakistani society or the ones who have had a great following in Pakistanis, for whatever but good reason.
2018's Pakistan Independence Day Google Doodle shows a Pakistani flag flying high under blue sky, on top of the word Google, as shown below.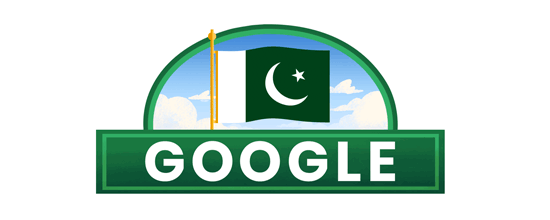 I like the way Google shows interest in the occasions which are important to its audience from different parts of the world and wins hearts that way. I feel proud after seeing a waving Pakistani flag and somehow above doodle image have same affect. And it is great that google cared and tried to be part of Pakistanis' Independence Day Celebrations.
Plus it is not the first time that google made a Doodle for Pakistan's Independence Day, they did it for several years and some of these historic Pakistan Independence Day Google Doodles are depicted in following image.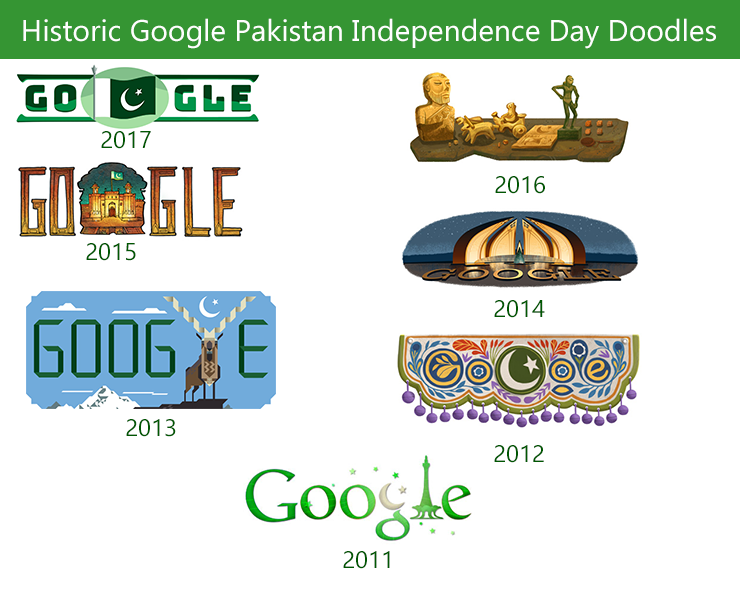 Google Independence Day Doodle for 2017 was just an animated Waving Pakistani Flag replacing an 'O' in Google's logo and the whole logo was turned into the shades or Green and of course white in Pakistani Flag.
In 2016 Doodle for Pakistan Independence Day, Google showed the historic archaeological site of Mohenjo-daro, which is situated in Sindh Province of Pakistan. This site belongs to an era estimated to be belonging to 2500 BCE and is comprised of, one of the world's earliest major cities.
The doodle of Independence Day Pakistan from the 2015 shows the Pakistani Flag mounted on top of main entrance gate of Lahore Fort. This fort is situated in Northern city of Lahore, and belonged to the famous Muslim Mughal Emperors, who ruled in the territory for hundreds of years.
In 2014 Google opted for placing the Pakistan Monument inside its doodle for Pakistan Independence day. Construction of this monument was an initiative of Retired General Pervez Musharraf, while he was President of Pakistan. This Monument is situated in the capital city of Pakistan, Islamabad and was constructed in years 2004 to 2006. It was inaugurated in 2007 by President of time Retired General Pervez Musharraf himself. Monument is accompanied by a museum depicting the history and events of Pakistan through wax models as well as it have lots of audio and video archives etc and much more.
2013 Doodle by Google for Pakistan Independence Day featured the national animal of Pakistan called Markhor in local language and is also called 'screw horn goat'. It is found in central Pakistan among other countries and areas. They are now very less in numbers and are classified as endangered species. Though in last decade they have managed to increased their species by 20 percent.
Pakistan independence Day Doodle of 2012 features the world famous truck art of Pakistan with colors of Pakistani flag, green and white, on center of the graphic in shape of white crescent and star, from Pakistani flag, on green background.
Google's Pakistan Independence Day doodle of 2011 features the most important monument of Pakistan called Minar-e-Pakistan. Minar-e-Pakistan or Pakistan Tower was built to remember the 23rd March 1940's resolution, which decided that now it is now critical for Muslims to build a separate state in subcontinent, where they can live freely and practice the teachings of their religion. Plus specially the country will not only be for Muslims but also for the minorities, who will have equal right to live in country and enjoy the freedom of practicing their own religion.
All the graphics shown above are Google's own property and shared above to tell you a story about the several Google doodles released by Google on many Pakistan Independence Day occasions over the course of many years.