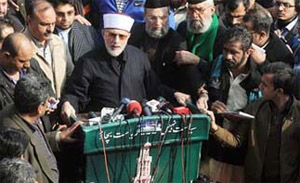 The First Information Report (FIR) was registered against Tahir Al-Qadri, the chief of Tehreek-e-Minhaj Al-Quran. He have have recently organized a long march from Lahore city of Punjan to the Federal Capital, Islamabad. Participants of march mostly remained peaceful except they removed the containers which were placed to block their access to capital. March crowed stayed at D-Sqare Islamabad from three days, and intend to stay there till their demands are fulfilled. The FIR against Qadri was registered in the Islamabad's Kohsar police station.
According to Qadri, the long march is an initiative against all the corruption and lawlessness, for which the current ruling party so called "Paksitan Peoples Party" (PPP) is responsible. Qadri stays in Islamabad with tens of thousands of people till government listens to his demands like 'early elections'. However current government have just two months left in power but still Qadri stays at point that the current government is not worthy of being in power for next two months as they will be doing only bad to the country considering their previous record.
It is no secret that the ruling party members are corrupt and its proved many times, like recent decision of supreme court against the current Prime Minister where he was held responsible for corruption in Rental Power Plants (RPP), a budget was allotted and issued to then but evenly never were surfaced. An order of taking the prime ministered was also issued but government have not done anything in that regard yet. It should be took into consideration that president also belongs to ruling party, is the chairman of party, so its real easy for administration to betray court orders and continue with all the corruption and mess they have been making.
The RPP corruption case conclusion which confidently came on second day of long march somehow have put government in panic, so this FIR seems the direct response to that panic and fear ruling people have in their minds.
Personally I may not be a fan of Qadri but one thing for sure, that long march and peacefully protesting for peoples rights is not crime in this or any other country of world. Until you keep things peaceful it all comes under the freedom of speech. As till yet peace was ensured by Qadri and participants of long march, so I see this FIR just coming out from government's panic after the court order, as they may be co-relating it with long march.
Feel free to express your opinion via comments, we endorse freedom of expression. Do share this article on Facebook and twitter.