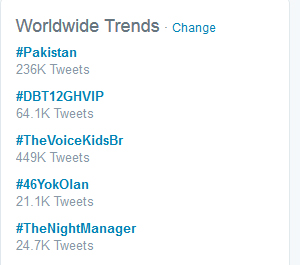 Sunday 27th of March which has just passed was definitely a tragic day for Pakistan and the World. Specifically due to the terrorists targeted the innocent civilians which include women and children in an explosion carried out in Park in Lahore. Also the blast was carried out keeping in mind that, its weekend and there will be most rush in the park. The explosion claimed the lives of 69 people till now and over 250 were injured in the explosion.
However, the social media all over the world is exploding with the condolences, messages of love and unity from around the world for Pakistanis, following this unfortunate incident. From last several hours #Pakistan is trending number one in the worldwide trends on twitter alone with currently 233 thousand and ever increasing count of tweets mentioning Pakistan in context of this explosion.
Finally, May Allah bless Pakistan and rest of world which peace and save the whole world from such cowardly attacks. The attacks which claim tens and hundreds of innocent lives.