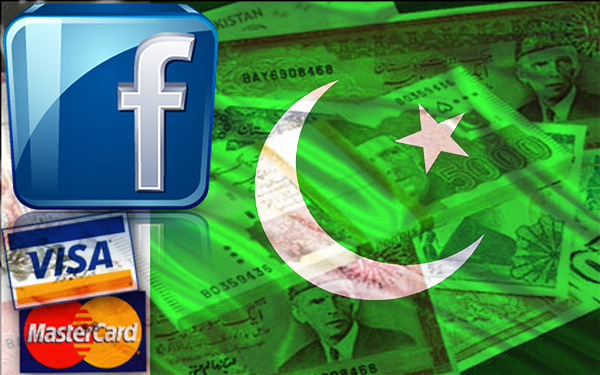 Its now many years that Pakistan banks are offering Debits and Specially credit cards which are mostly backed with global names like Visa or Master Card. Most of them can be used here in Pakistan on POS terminals, they do work online as well but there are huge limitations when people try to use these cards online. Specially with debit cards, no doubt they features Visa or Master Card logos but most of Pakistani bank except few exceptions don't allow their usage online. The case of Credit Cards is bit different most Pakistani banks allow usage of their credit cards online but again there are limitation or bans from specific websites which would not accept a specific card from specific country, based on their previous experiences. Plus not everyone qualify to have a credit card, some people don't want it due to high interests.
To make long story short we would be adding here experiences of real people from Pakistan, specifically about paying on Facebook from Pakistan. In the effort to know the workable methods to pay on Facebook from Pakistan I will tell you my story and then would expect people to share theirs in comments below, which later would be part of our list of methods to Pay on Facebook from Pakistan, not the claims of banks but the experiences of real people.
My Experience: Payment on Facebook using MCB Lite mobile account prepaid visa cardFrom like ages I was in search of payment method to pay on Facebook.com from Pakistan, mean while I had two bank accounts, first the HBL with its Visa backed Debit/ATM card and second one Meezan bank account and its Visa backed Debit/ATM card. Both of them can be used on POS with visa support but on inquiring with both banks they are not usable online.
I am not very fond of credit cards, my interest more lies in cards like Debit cards with account prepaid cards, though I had applied for a credit card once with a bank and got rejected, not really tried with another bank.
Then again coming back to topic, recently i opted in for Visa backed MCB LIte Mobile account. This is basically designed to make payments via mobile to another number but what attracted me was that it comes with a Card with visa logo which is usable online. So I finally applied and got the MCB Lite account.
To use MCB Lite card online you need to first have enough balance in your mcb lite account which you can load via visiting mcb bank or using Inter Bank Transfer from your bank account. Secondly to use it online you need to call MCB bank and activate the session, this is good safety feature, you decide the period of session, it could be hour or a day or month or even it may be activated for forever.
So for the first payment I activated the session for limited period of few days and used this card on Facebook. It worked like charm, so now I have something which enables me to pay online. Currency exchange rate I am getting is bit higher about 3 rupees higher than what Google will tell you when you search on it the term "1 USD to PKR", but still I guess this is about standard for all Pakistani banks, any other bank would have charged me similar rates.
So if you get MCB Lite visa card and plan to use it on Facebook for advertising or any other purpose, do remember to activate it at least for duration your ad is running including the date end of current month and few days of next, as Facebook charges you with remaining amount on end of month.
While I am really happy with MCB Lite for payments on Facebook, I would like to explore more methods to pay on Facebook which real people from Pakistan have used and would like to share with others here. So if you had any positive or negative experience in near past with payments online or specifically on Facebook do share with us in comments below.
Verified Methods to pay on Facebook from Pakistan
MCB Lite Mobile Account's Visa Card
More methods will be added after someone posts their experience in comments below or after we come across who have payed on Facebook from Pakistan.
Don't forget to say your heart out in comments below. Like us on Facebook and Follow us on twitter from options on right side of this page.